The Barrier - Wire is a type of security building featured in The Last Stand: Dead Zone.
Description
A barrier of defensive barbed wire designed to deter any oncoming enemies.
Information
Barriers are used to delay any enemies attacking your compound from reaching your defending survivors. They also provide a security bonus. Upgrades to this structure improve its security bonus, as well as aesthetic changes.
Specifications
Outdoor placement only.
Occupies area of 1x6 squares partially bordered by walking area.
Destroyable (takes minimal damage from projectile weapons, takes extra damage from melee weapons).
Provides Low Cover.
Upgrade Levels
Level 1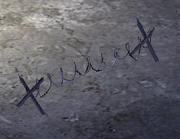 Materials Needed:
Buildings Required:
Time Taken:
Effect:
Level 2
Materials Needed:
Buildings Required:
Time Taken:
Effect:
Level 3
Materials Needed:
Buildings Required:
Time Taken:
Effect:
Level 4
Materials Needed:
Buildings Required:
Time Taken:
Effect:
Level 5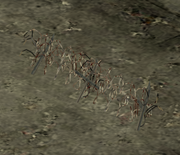 Materials Needed:
Buildings Required:
Time Taken:
Effect:
Level 6
Materials Needed:
Buildings Required:
Time Taken:
Effect: