"Don't worry about me, I'll be fine. Made it through 3 tours in 'Nam no problems, think I can outlast a few shamblers."
— Darnel, a hardened military veteran
Darnel Brown is a survivor in The Last Stand: Union City. He can be found tinkering on the second floor of his workshop, "Darnel's Repairs", in Brookvale.
Darnel is a grizzled old man who enjoys "tinkering" (playing around with materials and 'inventing' stuff) in his workshop. He can give the player several quests which involve creating or modifying weapons. He is apparently a hardened war veteran, claming to have served three tours in the Vietnam War. Since he has survived throughout the outbreak so far, his skills justifies that of a soldier.
Talk to Darnel, and accept the quest.
Find:
A Broken Pipe can be found in the dumpster beside Stan's General Foods. A Paper Weight can be found in a cabinet in 860 Tanner Street.
Talk to Darnel after finishing Heavy, Man.
Find:
The Broken Board, Bag of Nails, and Roll of Tape can be found in the warehouse beside the Plenty Phone safehouse. One bag of nails and one roll of tape can also be found in the garage of 14 Smith Street, Pinedale.
Talk to Darnel after completing Something Spikey.
Find:
A normal PPM 9 can be found in 14 Smith Street, Pinedale, in the bedroom closet upstairs. Everything else can be found in the warehouse beside Plenty Phone.
Darnel was probably meant to be a survivor companion like Kelly and Hank. However, he was probably changed into an NPC during the final stages of the game's developement.
If players successfully complete all 3 of his quests, he will tell the player that he was happy to help them and urges them to move on as he can take care of himself.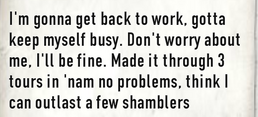 It is not known how Darnel survives on his own. As the pathway to the second floor of his shop is not barricaded, zombie hordes can swarm in with ease, and if the players search his cupboard, they will find that he has no food stored there. In fact, the floor that Darnel is on can be a potential horde attack location, with zombies falling from the roof.
However, it can be assumed that since Darnel is a war hardened veteran, survival is not a big problem for him. It is likely he goes out scavenging for supplies in his free time, or that he hides out somewhere else, and is just at his shop to use the workbench there. It is possible the players have simply encountered him when he was not out scavenging or at his hideaway during their visit to Brookvale.
Interestingly, although zombies can enter the room he's in, they do not attack him.
Community content is available under
CC-BY-SA
unless otherwise noted.