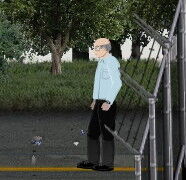 Ed Boone is an NPC in The Last Stand: Union City. He can be found near the end of Smith Street, Pinedale, at the Army Fence. His fate after the break-in is not revealed to the player.
Talk to Ed and accept the quest.
"The military put up this fence a few days ago. We need something to cut our way through. I know Ray at number 12 has a pair of bolt cutters. I borrowed them last month. Hurry!"
— Ed
After accepting the quest, go to Number 12. Go upstairs. Ray will tell you that Ed never returned them. Go back to Ed. He will give you the keys to his Garage. Unlock the Garage in Number 14, and grab the Bolt Cutters at the end of the room. Then return to Ed.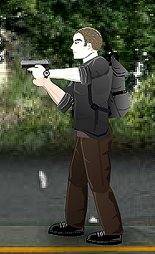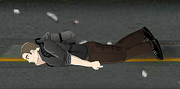 Ed travels with an unnamed survivor. Since the survivor cannot be spoken to, it can only be assumed that Ed stumbled upon the survivor like how the players did with Kelly or Hank. Alternatively, he could be Ed's friend, son, or relative. The unnamed survivor can be seen holding a PPM 9, and is also invincible during gameplay.

If one shoves the unnamed NPC, it will contribute to the "Outta My Way" achievement.
The unnamed NPC can be killed by shoving him multiple times. The player will earn the "Human Target" achievement for doing so.

Ed and Ray are probably not on talking terms, possibly due to Ed not returning Ray's Bolt Cutters. Ray shows some anger when the player mentions Ed. However, unlike Ray, Ed is willing to put that aside to ask for help.
Interestingly, Ed does not mention anything about his plans after cutting through the fence in Pinedale. No matter how many times the player tries to talk to him, Ed will only mention that the path to Brookvale is now open.
Ed and the unnamed survivor will also remain by the fence no matter how many times the player talks to or visits them, even though they planned to leave Pinedale and head to safer ground.
A glitch in the final part of Ed's quest allows the player to cut through the fence upon obtaining the cutter without having to speak to him. However, this means that the quest cannot be completed. Since the XP rewarded is quite a lot this early in the game, it would be unwise to do so.
Ed's name may be a reference to Ed Boon, the co-creator of Mortal Kombat. 
Community content is available under
CC-BY-SA
unless otherwise noted.