The Food Storage is a type of storage building featured in The Last Stand: Dead Zone.
Description
Storage for food resources. Having stored food helps raise your survivors morale.
Information
The food storage increases the amount of food that can be stored in the compound. Upgrades to this structure improve its storage capacity, as well as aesthetic changes.
Specifications
Indoor and outdoor placement.
Can be raided.
Occupies 2x2 squares bordered by walking area.
Low Cover.
Upgrade Levels
Level 1

Materials Needed:
Buildings Required:
Time Taken:
Effect:
Provides 25 units of Food storage capacity.
Level 2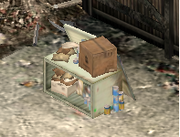 Materials Needed:
Buildings Required:
Time Taken:
Effect:
Provides 50 units of Food storage capacity. (+50)
Level 3
Materials Needed:
Buildings Required:
Time Taken:
Effect:
Provides 100 units of Food storage capacity. (+50)
Level 4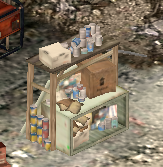 Materials Needed:
Buildings Required:
Time Taken:
Effect:
Provides 150 units of Food storage capacity. (+50)
Level 5
Materials Needed:
Buildings Required:
Time Taken:
Effect:
Provides 200 units of Food storage capacity. (+50)
Level 6
Materials Needed:
Buildings Required:
Time Taken:
Effect:
Provides 250 units of Food storage capacity. (+50)
Level 7
Materials Needed:
Buildings Required:
Time Taken:
Effect:
Provides 300 units of Food storage capacity. (+50)
Level 8
Materials Needed:
Buildings Required:
Time Taken:
Effect:
Provides 400 units of Food storage capacity. (+100)