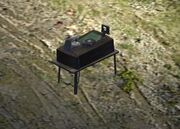 The Gear Bench is a general building featured in The Last Stand: Dead Zone.
Description
Allows you to craft and upgrade gear items.
Details
The Gear Bench enables crafting and upgrading of gear items. Upgrades to this structure unlock additional schematics and allows higher level items to be crafted and upgraded.
Specifications
Indoors and outdoors placement.
Occupies area of 1x2 squares bordered by walking area.
Provides Low Cover.
Upgrade Levels
Community content is available under
CC-BY-SA
unless otherwise noted.