For a server-generated list of Independence Day content, see Category:Independence Day.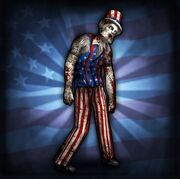 Independence Day, also known as Freedom Week, is an annual event featured exclusively in The Last Stand: Dead Zone. It is featured on the week of July 4th, and lasts a few days after.
American Independence Day, also known as the 4th of July, commemorates the supposed date on which the American Founding Fathers signed the Declaration of Independence, thus marking the day on which the United States of America gained independence from Britain. Its celebration continues in the Dead Zone, despite the collapse of the U.S. government during the zombie outbreak, with American survivors and zombies dressing up for the occasion.
During this time, certain zombies may be seen dressed up for the event, as well as several exclusive weapons, gear, and clothing items will be available. Certain structures may also be constructed.
Community content is available under
CC-BY-SA
unless otherwise noted.