"LAST STOP
Union City is only a few days from here, better hurry. Miss that boat and I get the feeling it's all over."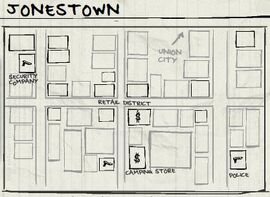 Jonestown is the second largest city after Union City, in The Last Stand 2. Pre-outbreak it had a population of 100,027. The player must pass through Jonestown in order to reach Union City.
Prepare for total siege, as Jack and his group face the largest zombie hordes in the whole game. If you haven't mastered the art of barricade defense by now, you're unlikely to last long. Be smart with your supplies, since Union City is the next city in reach.
If you want to leave Jonestown, you have 2 possible destinations: Union City or Fort Tran.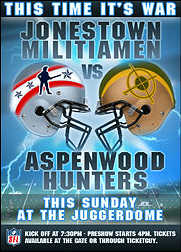 If one looks carefully during the initial loading screen in The Last Stand: Union City, a diary page says that people in Jonestown were getting a rare sickness, hinting that the infection passed through here.
Shawn Smith, a survivor in Jack's group in TLS:UC, says he is from Jonestown.
Occasionally, zombie clowns appear amongst the horde.
The M4A1 and Hand Grenades are military weapons, implying that there was a military presence in the city before it was overrun.
One of the posters in TLS:UC states that the town has its own football team, the "Jonestown Militiamen".
This section contains audio and/or video files.
If you are having difficulty playing these files, see media help.
| Track | Real-world preview! |
| --- | --- |
| Ambience loop | |
Community content is available under
CC-BY-SA
unless otherwise noted.