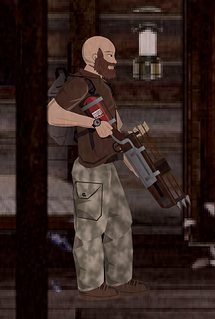 "Did Lisa send you? How'd you find me out here? What's the situation in Union City, soldier? Hmm! Tell me."
— Terry, a recluse hiding in a forest
Terry Granger is an NPC in The Last Stand: Union City. He appears in Whistler's Forest, which is only available in the Survival Kit premium add-on.
Terry can be found hiding in his log cabin, nestled deep within the forest reserve. He plays a crucial role in the "Into The Wilds" quest. His sister, Lisa Granger, gives the player a quest to find him in the forest reserve. He rewards the player with his handmade Hell Slinger.
Background
Edit
Not much is known about his his past, although it does seem he has some military background, since he addresses the player as "soldier" and says they're part of his "platoon", wears military overalls, and is an expert survivalist (crafting the Hell Slinger and surviving in the zombie-infested forest alone).
Community content is available under
CC-BY-SA
unless otherwise noted.