Welcome to The Last Stand Wiki!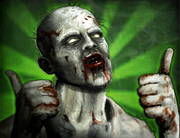 Hey there! Glad you made it; we could definitely use another survivor here! The zombies are everywhere, so we hope you'll stay and help the greater survivor community out!
What is The Last Stand Wiki?
The Last Stand Wiki is a wiki dedicated to The Last Stand series of Adobe Flash video games. A wiki is a website that is freely editable by anyone.
The Last Stand Wiki was founded with the idea of providing information about the game series to everyone, free of charge and without the need to register for an account. Our wiki is run entirely by fans, not by the official developers, and as such needs volunteer users in order to survive. It doesn't take much to get involved; we encourage all editors to be bold!
Why should I get involved?
Because without you, we would not exist. No seriously, this wiki would never have survived if it weren't for people like you! Our wiki employs no editorial staff and no full-time employees. It is run entirely by volunteers from all walks of life, regardless of background, ethnicity, location, etc., and without volunteers, we wouldn't have a website to show you at all.
Every user on the wiki, from the first to its last, was an ordinary user who looked at the wiki and wondered how they could help out with it. Ask some of them! It all starts with one person who wants to help out, and without those people, we would not exist.
How do I get involved with the project?
We're glad you asked! The biggest and best way you can help the project out is by editing our pages! (Yes, that's right, you can edit most of our pages right now!)
To try it out, click here to go to the sandbox, click the "Edit" button at the top of the page, and make any changes you want! When you're satisfied, click the "Preview" button to have a sneak peek, or the "Publish" button once you're ready to show the world what you've done!
You can find more help on editing by reading this page.
Once you're comfortable with editing, pitch in by looking at our To-do list and seeing what needs to be done! You should also come and meet our community over at the community portal!
What if I need more help than that?
Our friends over at Community Central have put together Wikia University, a great way to learn the very basics of editing and using Wikia. If that isn't enough, you can search for your question in the library of help pages. And, of course, if you still can't find what you're looking for, you can ask at the Community Central forums, or get some local help right here at home.
---
Excited? So are we! We're so happy to have you here, and we hope you'll stay and invite others to contribute!
Here are some other pages you might find useful: