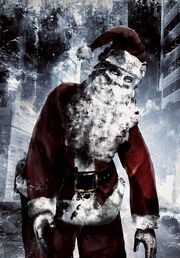 Merry Z-Mas, survivors!
You may have noticed that the wiki's been a little quiet recently. There aren't as many editors around as there used to be, but our wiki readership has remained at a fairly stable ~2.5K views per day.
This year, I've decided to try to cater to those 2,500 people by creating a Discord server for The Last Stand Wiki! For those who are not aware, Discord is a free Internet communication software that rivals Skype and TeamSpeak, but is more tailored towards gamers. Discord offers both text-based chat and voice-based chat, which allows people to talk to each other over the Internet in real time. Discord is very simple to use, and you can access it right from your web browser or their standalone apps for Windows, macOS, Android, and iOS.
Discord has seen remarkable success over at The Sims Wiki (Where I'm also admin on), and hoping to revive the community here as well, I've decided to bring the joys of Discord over to The Last Stand Wiki, just in time for Christmas (Er, Z-Mas)! Anyone can join, even if you do not edit the wiki![n 1]
Ready to join? Click on the "Connect" button on that little blue widget below to get started! Need more information? I've written up an entire page for you to read here.
If you see this, JavaScript might be disabled in your browser or the DiscordIntegrator plugin isn't working. If it's the latter, please contact an administrator.
By clicking "Connect", you agree to abide by the server rules.
Be sure to follow us on Twitter at @LastStandWiki for more updates, remember to be bold when editing the wiki, and have a safe and merry Christmas tomorrow! We'll see you in 2018! —k6ka 🍁 (Talk · Contributions) 21:47, December 24, 2017 (UTC)
Notes
↑ If you do edit the wiki, you may want to have your identity confirmed. See The Last Stand Wiki:Discord confirmation for more details.