It has certainly been a while since I last posted a news blog here on this wiki. Note that we do have a Twitter account where updates are more frequent. Follow us at @LastStandWiki if you haven't already!
Anyways, Con and his cronies have blessed us with yet another update, just in time for Halloween! This time, we're up to something new. Looks like Con's been in a World War II mood recently (Or perhaps we're now receiving the carcass of Warfare Online... who knows?)!

From the press...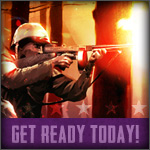 "The moon is rising and so are the dead. We've unlocked weaponry from a bygone era from beneath the city. Arm up and get ready!"
New update, new stuff!
The Undead Blitz update is out, and more's going to come! For now, here's an incomplete list of what I do know is included:
New weapons!
New gear!
New clothing and accessories!
New components!
New supply boxes!
What this means for us (including you!)
The Last Stand Wiki is a wiki, which means it is built by people like you! We have no editorial staff and all the content on this website was made by ordinary people like you and me! Please be bold and help us expand the wiki to include the new update! If an article linked above doesn't exist yet, just create it! If you need help, Wikia University is a great resource to check out; we have lots of help articles for you to read; and you can just come and ask me!
Also, if you haven't noticed by now, we're trying a new system of detailing updates to the game: each major update now get their own article and category (For example, the Expansion update). The article for this new update is called Undead Blitz, and its associated category is Category:Undead Blitz update. Again, if this confuses you, you can just ask me and I'll be happy to clarify what it means for you. If you're new here and just want to start helping out, don't worry about the small stuff; just dive right in!
Now, get scavenging (and crafting)!