The Vegetable Garden is a production structure featured in The Last Stand: Dead Zone.
Description
A small food crop that will help provide additional food.
Information
The vegetable garden generates food for your compound, which is stored in the collector until it reaches full capacity. Once it reaches full capacity, production is stopped, and the food must be collected from the structure, where it will be added to the compound's stock of food. Upgrades to this structure improve its temporary storage capacity and production speed, as well as aesthetic changes.
Specifications
Outdoor placement only.
Occupies area of 4x4 squares bordered by walking area.
Upgrade Levels
Level 1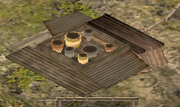 Materials Needed:
Buildings Required:
Time Taken:
Effect:
Level 2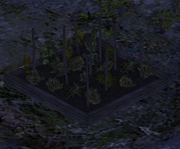 Materials Needed:
Buildings Required:
Time Taken:
Effect
Level 3
Materials Needed:
Buildings Required:
Time Taken:
Effect:
Level 4
Materials Needed:
Buildings Required:
Time Taken:
Effect:
Level 5
Materials Needed:
Buildings Required:
Time Taken:
Effect:
Level 6
Buildings Required:
Time Taken:
Effect: