Whistler's Forest is a location featured in The Last Stand: Union City. It can only be accessed after purchasing the Survival Kit, and along with the Stadium, has a danger level of 10 (the fifth highest in the game).
It is an area, as the name suggests, with a forest reserve and a few houses—the typical small town community.
Interactable Areas
Edit
The Road Out Town (Highway)
Edit
You won't see any zombies, NPCs or houses, so just keep walking.
Highway (continuation)
Edit
The Mechanic
Edit
Find:
3/3 Gallons of Gas (quest item, not the ammo type)
1/1 Socket Set
1/1 Fan Belt
Reward: $500
The items can be found in homes on the last two streets, but be careful when you complete the quest: talk to Jeb, but stay close to him, since he and his brother Paul will start shooting at you because they're actually bandits. They are armed with an Ambrose Shotgun and a Death Adder .45 respectively, so be quick. After killing the two, talk to Clarence and Fern and they'll thank the player for saving their lives because they were captured and held hostage by Paul and Jeb. You'll then receive the cash reward.
Reserve Entrance
Edit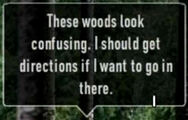 Fourth Street
Edit
Just walk through, there will be some zombies though.
Town Road
Edit
10 Town Road, an unsafe house. Contains a Socket Set [Quest Item], a Be Prepared, a Wild Man, a Glendale Hunter, and a Nightwatchmen Monthly skillbook as well as some food. The room upstairs contains a key to a Safe and some clothing.
12 Town Road, an unsafe store. Contains a lot of food, Cash and a Gallon of Gas[Quest Item].
14 Town Road, an unsafe house. Contains a Shotgun, some Shells, and some Cash.
Main Street
Edit
Lisa gives you a quest:
Into The Wilds
Edit
The map is located below (click to enlarge):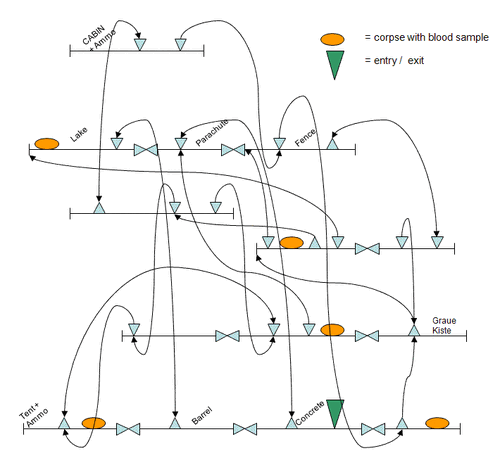 Reward: Hell Slinger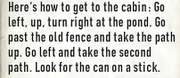 You'll need to enter the forest and follow this path.
Enter the reserve.
Go left until you find the first path with an arrow that goes up.
Keep walking left until you find a pond, go right of that pond.
Go right and enter the first path you find, keep to the right until you find the old fence. Go to the right of the fence.
Go left and enter the third path (it has an arrow pointing up). Keep walking left until you find a stick with a red can.
Enter the path to the right of the stick and can (also an arrow pointing up). Go this way, go left and you'll find the cabin where Terry is hiding.
To exit the forest, you'll have to follow the directions given in the map (link above), since there is no defined path for exiting. Just keep trying carefully; if you find yourself going in circles, you are doing something wrong.
Philip gives you a quest:
Blood Samples
Edit
Find:
Reward: Key for the Medical Clinic office near the HERC Outpost in Uptown.
Said office contains 2 Be Prepared, a Wild Man, a Jacked Up, and a Businessman skillbook as well as 2 Medkits, 2 Pain Pills and Bandages. Desk drawer has $800.
You should be able to get the samples from the bodies in the forest, just look everywhere.
Community content is available under
CC-BY-SA
unless otherwise noted.