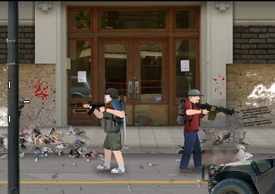 Whistler Hotel is a 4-story hotel[n 1] located in Uptown, a section of Union City, in The Last Stand: Union City.
Contents
Edit
Staff Room - the Key to Room 403, a Tauron 9mm, a Kitchen Knife, a Nightwatchmen skillbook, and some 9mm ammo.
Second floor hallway - a Cleaver.
Room 203 - a No Zzz.
Room 204 - a Martial Masters skillbook.
Room 302 - $38.
Room 304 - Pain Pills and $150.
Room 404 - $41.
Room 403 (locked) - an Extended Magazine G17 Pistol, $350, some 9mm ammo, and a Medkit.
Room 402 - a Heavy Claw Hammer.
Room 401 - $15.
Rooftop - a Safehouse. Contains some food, an ammo stockpile, a Hunter Compact, a G17 Pistol, Bandages, and a Medkit.
The name Whistler Hotel is likely based on the town of Whistler's Grove in The Last Stand 2.
Room 402 appears to have been under renovation during the onset of the zombie outbreak, due to the half-painted walls, construction-related Junk, and hammer.
↑ While it looks like one, and is commonly confused as one, it is NOT an apartment/condominium.
Interior
Edit
Community content is available under
CC-BY-SA
unless otherwise noted.