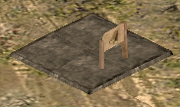 The Wood Drop Off is a production structure featured in The Last Stand: Dead Zone.
Description
[
]
Drop off point for small amounts of wood your survivors find around the compound.
Details
[
]
The Wood Drop Off generates Wood, which is stored in the Drop Off until it reaches full capacity. Once it reaches full capacity, production is stopped and will not resume until the Wood is collected. Once collected, it will be added to the compound's stock of wood. Upgrades to this structure improve its temporary storage capacity, and books can increase its production rate.
Specifications
[
]
Outdoor placement only.
Occupies area of 4x4 squares bordered by walking area.
Provides Low Cover.
Collecting from this structure when at full capacity has a chance of providing extra resources.
Upgrade levels
[
]
Upgrade Level
Requirements
Effect
Level 1
Resources:
25
25

Can be built immediately for ? 
Buildings:
Level 1 Wood Storage
Produces 10 units of per hour, up to 30 units

+25 XP to all survivors when completed.

Components:
None
Time:
5 Minutes
Survivors:
None
Level 2
Resources:
100
100

Can be built immediately for ? 
Buildings:
Level 3 Wood Storage
Produces 10 units of per hour, up to 40 units

+? XP to all survivors when completed.

Components:
None
Time:
4 Hours
Survivors:
None
Level 3
Resources:
400
400

Can be built immediately for ? 
Buildings:
Level 5 Wood Storage
Produces 10 units of per hour, up to 50 units

+450 XP to all survivors when completed.

Components:
None
Time:
1 Day
Survivors:
None
Level 4
Resources:
1,600
1,600

Can be built immediately for ? 
Buildings:
Level 8 Wood Storage
Produces 10 units of per hour, up to 60 units

+700 XP to all survivors when completed.

Components:
None
Time:
3 Days
Survivors:
None