For a server-generated list of Z-Mas content, see Category:Z-Mas.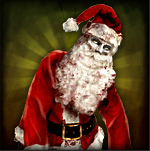 "It's Z-Mas time. That means Infected Santa will be coming down your compound chimney soon. He also brought some high level enemy friends."
Z-Mas is an annual event featured exclusively in The Last Stand: Dead Zone. It begins approximately one week before Christmas.
Background
[
]
Christmas time comes only once a year. It is a time when families come together to celebrate and to exchange gifts with one another. Laughter and joy is spread throughout the community. Special trees are set up and lights are put on display to showcase this event. Although the laughter and joy is long gone due to the zombie apocalypse, survivors can replicate the feeling by setting up Christmas trees and lights. Some zombies have also dressed up for the occasion, with tasks made to target them.
Effect
[
]
During this time, certain zombies may be seen dressed up for the event, as well as exclusive clothing items becoming available. Some supply boxes are dropping, decorated as a present. Certain community tasks may also become available for all players to complete.
Trivia
[
]
A special ambience loop plays during the event, as opposed to the normal loop. Until Halloween of 2016, it was the only time of the year where the ambience loop changed.
Z-Mas is a play on words of the abbreviation of Christmas, X-mas.
Gallery
[
]