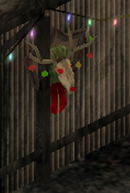 The Z-Mas Hunt Mount is a Z-Mas-exclusive miscellaneous building featured in The Last Stand: Dead Zone. It was required to complete the Z-Mas Mount community task in 2015, and was reintroduced in 2016, 2017 and 2018 as a purely decorative structure.
A mounted reindeer skull would really brighten up the walls of this place.
Completing this building will contribute towards the Z-Mas Mount community task.
Indoor and outdoor placement.
Cannot be scavenged from during raids.
Occupies area of 1x1 squares.
Cannot be upgraded.
Can be placed outside compound boundaries.
Upgrade Level
Requirements
Effect
Level 1
Resources:
250
Buildings:
None
+? XP to all survivors when completed.
Components:
None
Time:
Instant
Survivors:
None
Mounts can be placed anywhere in the compound, even if there is no wall realistically supporting it.
Community content is available under
CC-BY-SA
unless otherwise noted.