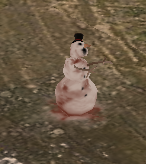 The Znowman is a miscellaneous building featured in The Last Stand: Dead Zone. It is only available during Z-Mas.
Description
Do you want to build a snowmaaaan?
Details
It serves no real purpose and is purely cosmetic.
Specifications
Indoor and outdoor placement.
Occupies area of 2x2 squares bordered by walking area.
Cannot be upgraded.
Upgrade levels
2015
2016
Upgrade Level
Requirements
Effect
Level 1
Resources:
250
Buildings:
None
+? XP to all survivors when completed.
Components:
None
Time:
Instant
Survivors:
None
2017